For her 6th birthday, Cora Stover went to the Cincinnati Zoo's Hippo Cove exhibit to visit Fiona, her favorite hippopotamus. Cora was born shortly before Fiona and has practically grown up with the remarkably charming and friendly hippo. When Cora's mom, Randie Adam, got ready to take her birthday photo in front of Hippo Cove, Fiona was right on cue and got into the photo by positioning herself directly behind the smiling little girl. 
"Cora has told me that if Fiona ever goes to another zoo, we'll have to move too," says Adam. "She doesn't want to live anywhere but where Fiona lives."   
Like Cora, people everywhere feel a personal connection with Fiona. Born so small she nearly died, Fiona defied the odds, and the story of how she survived and thrived made the plucky hippo an international celebrity. Fiona has been called a symbol of hope, a source of inspiration for overcoming obstacles, and an ambassador for her species. 
Since Fiona — and now her half-brother, Fritz — is such a phenomenon, we think you might be curious about her and her rotund relatives, a group (officially called a "bloat") of hippos who exclusively inhabit Hippo Cove.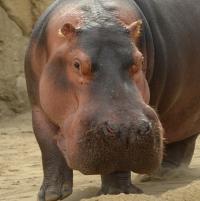 HENRY, FIONA'S FATHER
Birthplace
Henry was born at the San Francisco Zoo on Aug. 29, 1981. At the age of 7 months, he was transferred to Dickerson Park Zoo in Springfield, Missouri, where he was named after one of the zoo's benefactors. Henry spent more than 30 years there and sired five calves (only one of which survived) with a female hippo named Patsy. After Patsy died, he lived alone for two decades, but Henry's distinctive pink coloring and fondness for watermelon endeared him to the Missouri zoo's visitors. 
Cincinnati Zoo residency
To remedy Henry's solitary lifestyle and provide him with a pool suited to his 4,500-pound frame, the Association of Zoos and Aquariums' Species Survival Plan (SSP) for hippopotami recommended his transfer to the Cincinnati Zoo in 2016. Its new, $8 million Hippo Cove offered Henry state-of-the-art accommodations as well as the companionship of a female half his age, 17-year-old Bibi. Henry was immediately smitten with Bibi, and after Hippo Cove opened to the public on July 21, 2016, the couple delighted zoo-goers by cavorting like honeymooners in its 70,000-gallon pool.  
Claims to fame
Henry became a father for the sixth time when Bibi gave birth to Fiona on Jan. 24, 2017. Though out of practice as a parent, Henry gradually accepted her and patiently kept his mouth wide open while Fiona curiously inspected his teeth. By mid-summer, dad, mom, and baby were one big happy bloat and cuddled together during naps.  
Demise
After contracting a chronic infection, 36-year-old Henry's health declined rapidly. The zoo humanely euthanized him on Oct. 31, 2017. 
Postmortem
In 2018, Dickerson Park Zoo honored Henry with a plaque that reads: "The world's most handsome hippo. Father of Fiona. Loved by our community for more than 30 years."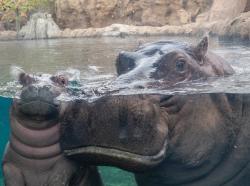 BIBI, FIONA'S MOTHER
Birthplace 
Born Feb. 7, 1999, at Disney's Animal Kingdom in Florida, Bibi became one of the first — and most mischievous — residents of the St. Louis Zoo's Hippo Harbor when she was transferred there in 2001. 
Cincinnati Zoo residency
Bibi moved to Cincinnati to inaugurate Hippo Cove in 2016 and keep her blind date with Henry, the first male hippo she ever encountered.  
Currently
Bibi is 24 years old and weighs some 3,200 pounds. She has two offspring: Fiona, who turns 7 this month, and Fritz, a baby boy fathered by Bibi's latest flame, Tucker, whom she met four years after Henry died.  
Claims to fame 
Fiona's premature birth and struggle for survival made her an internet sensation, which likewise turned Bibi into one of the world's most famous mothers. Apparently, she's also one of the most dedicated mothers; incentivized by treats, Bibi patiently stood still for ultrasound procedures while pregnant with Fiona, and as a result, the Cincinnati Zoo made history by capturing the world's first image of a Nile hippo in the womb. When her newborn proved too weak to stand and nurse, Bibi also walked into a chute twice a day and allowed her milk to be collected.  
Singularly Cincinnati
The human care needed to keep Fiona alive meant that the zoo separated her and Bibi for months. When they were reunited, Bibi was so steadfastly protective and attentive that Fiona's caregivers started calling the mother-daughter duo "BiFi" (pronounced "beefy").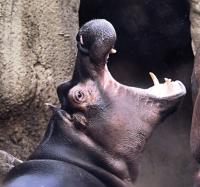 FIONA
Birthplace
Fiona was the first Nile hippo born at the Cincinnati Zoo in 75 years. She arrived six weeks earlier than expected, and at 29 pounds, she weighed 25 pounds less than the lowest previously recorded birthweight for her species. Because Fiona was so small and frail, zoo staffers immediately intervened to save her and even enlisted nurses from Cincinnati Children's Hospital to administer IVs. "Team Fiona" provided intense, round-the-clock care, and the first indication that their extraordinary efforts were paying off came rather quickly, when the zoo announced that the week-old calf had been given a name: Fiona, a Gaelic word meaning "fair."  
Cincinnati Zoo residency
The zoo started posting photos and videos on social media so that people could follow Fiona's progress. Well-wishers around the globe sent Fiona messages and cheered her every milestone, and on Aug. 25, 2017, The Fiona Show, documenting her growth and development, debuted on Facebook Watch. It garnered 34 million views in its first season. In mid-December, the zoo announced that Fiona had transitioned from bottle-feedings to solid foods, and by the time she turned 1 year old, Fiona tipped the scales at 650 pounds. With her cute face and perky personality, she also possessed tons of charisma and was undoubtedly the zoo's star attraction.   
Currently
As she nears her 7th birthday, Fiona currently weighs more than 2,100 pounds — and is still growing. She devours lettuce, veggies, beet pulp, and hay; consistently makes a big splash diving and playing in Hippo Cove's pool; and appears to love people as much as people love her.   
Claims to fame 
Fiona is the first premature hippo raised by humans; the first animal voted the No. 1 Cincinnatian (five years in a row!); the first hippo to predict Super Bowl results; and the world's most beloved hippopotamus. 
Singularly Cincinnati
On Fiona's first birthday, all of Cincinnati seemed to shout, "Hip-Hip-Hippo-Ray!" While herds of fans signed her birthday card at Hippo Cove, businesses and zoo partners celebrated with Fiona-themed products. Graeter's made Chunky Chunky Hippo toffee-and-peanut ice cream; Rookwood Pottery did a coaster featuring Fiona, Bibi, and Henry; Cincy Shirts sold Fiona birthday tees; and the zoo announced that pre-orders were available for Fiona, the Hippo, a book by bestselling illustrator Richard Cowdrey (a member of The Energy Cooperative in Newark).  
Fast-forward to 2023, and Fiona remains queen of the Queen City. Graeter's still churns out Chunky Chunky Hippo; Rookwood's growing Fiona collection includes ornaments, plates, bookends, and coin banks; and Cincy Shirts has multiple items saluting Fiona's entire family.  Cowdrey is working on his sixth Fiona book, and of course, the zoo's hippo-rific gift shop stocks them all (www.cincinnatizoo.org).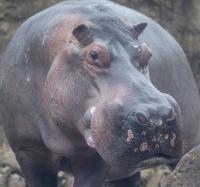 TUCKER, BIBI'S BOYFRIEND
Birthplace
Like Bibi, Tucker is a native of Disney's Animal Kingdom, where he was born May 18, 2003.  At age 6, he went to the Topeka (Kansas) Zoo to be a companion to a female hippo named Mara. Their son, Vision, was born on Aug. 20, 2010, and shortly afterward, he was relocated to the San Francisco Zoo because Topeka's hippo enclosure could accommodate only two animals. Tucker lived without a mate in San Francisco until the SSP program suggested he should go to Cincinnati and get acquainted with Bibi.  
Cincinnati Zoo residency
When he arrived at the Hippo Cove on Sept. 6, 2021, Tucker was described as "huge, dark, and handsome," and he and Bibi were soon hanging out by the pool and feasting on squash, melons, and hay during dinner dates. They got along so swimmingly that in April 2022, the zoo announced that Bibi was expecting her second calf.  
Currently  
Tucker is 19 years old and weighs about 4,300 pounds. He was officially introduced to his then-2-month-old son Fritz last October, and Tucker now happily occupies Hippo Cove with Bibi, their not-so-little bundle of joy, Fritz, and Fritz's half-sister, Fiona. 
Claims to fame 
To date, Tucker has surprised the staff at two different zoos in two different cities by conceiving two sons with two different females who both were on birth control; Tucker confounded expectations in Topeka when Mara became pregnant, and the same thing happened again at Cincinnati's zoo.   
Singularly Cincinnati
Although christened Tucker at Disney's Animal Kingdom, he was called "Bruce" at the San Francisco Zoo in honor of Giants manager Bruce Bochy. In a nod to Cincinnati Reds catcher Tucker Barnhart, the Cincinnati Zoo reverted to Tucker's given name, and Barnhart reciprocated by welcoming the hippo with a video message.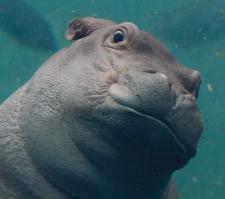 FRITZ, FIONA'S BABY BROTHER
Birthplace
Fritz was born at the Cincinnati Zoo on Aug. 3, 2022. In contrast to Fiona, Bibi carried him to full term, and his birthweight was estimated at 60 pounds. 
Cincinnati  Zoo residency
After nursing and bonding with Bibi indoors, Fritz, with his ever-watchful mother, finally ventured into Hippo Cove's pool at the tender age of 2 weeks old. A few days later, he made his public debut in the glass-sided pool, staring back at the media and visitors who were staring at him. On Aug. 24, Fiona met Fritz for the first time, and on Oct. 13, Tucker completed the family circle by joining them in Hippo Cove.
Currently
By this past November, 3-month-old Fritz weighed more than 300 pounds. He has a spunky personality and appears to have inherited Tucker's bulging eyes.  
Claims to fame 
When the zoo asked the public to help name him, it received 90,000 suggestions from every U.S. state and more than 60 countries. The zoo selected two finalists — Ferguson and Fritz — and asked folks to choose. The response was enormous: 223,542 votes, of which 56% favored Fritz. While the winning name alliterates nicely with Fiona, it also alludes to the fact that Fritz exists because Bibi's birth control was, well, on the fritz.
Singularly Cincinnati
Virtual zoo members can access the live Hippo Cove webcam to view the everyday lives and playful antics — including nose bumps, blowing bubbles from their nostrils, and the occasional hippo "kiss" — of Fritz, Fiona, Tucker, and Bibi (www.cincinnatizoo.org). Tip: The weather must be 40 F and sunny for them to go outside.