We all take a trip down memory lane once in a while, reminiscing about special times and meaningful life events. Beth Sanders, founder of LifeBio, has made it her mission to document those trips — to improve the quality of life for older adults by preserving their family history, one life story at a time. 
It started in the 1990s. Sanders' grandmother, Margaret Stitzinger, had early-stage dementia, so Sanders decided to conduct an interview with her to learn more about the family. What she found were vivid memories, such as the flu epidemic of 1918; growing up in Erie, Pennsylvania; and getting married.  
"I didn't know my grandma as much as I thought I should," says Sanders, a member of URE–Union Rural Electric Cooperative in Marysville. "It was like discovering gold. I could have lost that information if I hadn't taken the time to really talk to her." Sanders compiled her grandmother's biography and passed it along to family members at the funeral after her grandmother died a few years later.
That experience helped her realize two things: first, that she proudly came from a long line of strong, influential women; second, how important it was to engage with her grandmother, listen to her story, and record her family history before it was lost forever. "Listening is good for all of us," Sanders says. "When they tell their story, it gives them purpose. There's a reason they're here."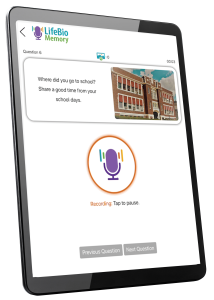 Sanders knew she could help aging adults improve the quality of their lives simply by helping them tell their life stories. It became her passion, which she turned into LifeBio in 2000. 
The company initially focused on capturing life stories using journals and an online biography system. Since then, LifeBio, located in Marysville, has grown into a health-tech company, developing apps that are used by seniors, health care workers, health systems, and educators.  
Today, LifeBio employs more than 45 people in 10 states and works with major health care plans nationwide to provide memory-care services. "We have to know people to deliver the best quality care for them," Sanders says. "For us, it's about the process, not         the product."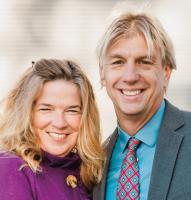 Her husband, Jeff, is LifeBio's chief technology officer. He builds and oversees the company's apps and works with the technology team to develop and introduce new initiatives. Together, they have developed three main programs for use in memory care. 
MyHello is a social support program designed to reduce loneliness. It's funded by a national health care plan. "Incredible technology has enabled us to connect people to each other," Sanders says. "They sign up online or by phone, answer a few questions, and are matched with another participant. Then once per week for 13 weeks, the participants call each other at a designated time to share life experiences."
MyHello aims to foster a feeling of connection, which in turn reduces depression. "We have done clinical studies that prove we reduce depression and increase happiness by connecting people who can share stories and reminisce with one another," Sanders says.
The LifeBio Memory app prompts users with a series of questions, encouraging them to recount life moments, and records and transcribes their responses. The app is the result of a substantial grant from the National Institute on Aging to improve the quality of care for people with dementia.
They're currently developing a third component called LifeBio Brain, an app that will be used as a 10-minute cognitive screening tool for dementia. "We have partnered with Brown University to move the test away from being a paper-and-pencil test to an interactive app for users," she says. 
And there is more on the horizon. The Sanderses are looking to further expand the company and develop additional memory care initiatives. 
"My legacy is helping others realize their legacy," she says, "thus helping people experience more love, hope, and peace."