Where do the batteries go?" Ann Culek always smiles when she recalls the curious little boy who couldn't figure out the workings of an old-fashioned marble run one afternoon in the farmhouse at Slate Run Living Historical Farm. Culek, the site's program manager, patiently explained to him that in the 19th century, toys did not have batteries.
"At Slate Run farm," she says, "everything we do is about re-creating what life was like on an Ohio farm in the 1880s."  
Operated by Columbus and Franklin County Metro Parks, the farm is part of Slate Run Metro Park, situated in the splendidly scenic countryside between Circleville and Canal Winchester.  It's a South Central Power Company member, but because the farm preserves the lifestyle of an era before electric cooperatives served rural Ohio, visitors never see so much as a light switch, let alone the modern office equipment that occupies the farmhouse's second story. 
Instead, they experience a bygone time by watching a historic interpreter in period costume strike a match to light an oil lamp; by smelling smoke from the woodstove in the kitchen where another interpreter is baking cornbread for dinner; by tasting heirloom apples freshly picked in the orchard; by touching just-laid chicken eggs that still feel warm; and by hearing the incessant clatter of a threshing machine powered by the brawny team of Percheron horses named Marcus and Bob.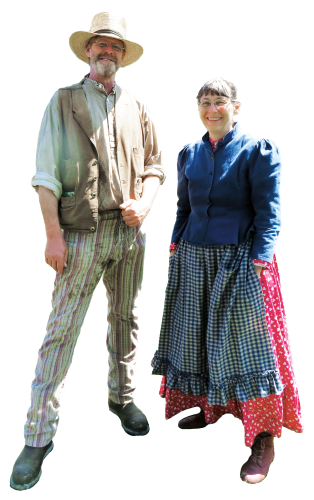 "Slate Run farm's staff is willing to do things the hard way and to do the research needed to accurately present the past to the public," Culek says. "Almost everyone working here has a background in education, history, or science education."  
Located on land that has been farmed since 1805, Slate Run is on the National Register of Historic Places, and its buildings are typical of a late 1800s farmstead. The Gothic Revival-style farmhouse was constructed in 1856, but its furnishings — which include a square piano and a stereoscope in the parlor — epitomize middle-class Ohio households circa 1880. "The 1880s were a heyday for Ohio because the state was an agricultural, industrial, and political power," Culek says. "Ohio's Rutherford Hayes was elected president in 1876, followed by another Ohioan, James Garfield, in 1880." 
By the 1880s, canals and railroads also had tied Ohio agriculture to the market economy, and during that decade, Samuel Oman and his wife, Mary, lived and worked on the land that became Slate Run farm. "We know from agricultural census records that the Omans annually shipped about 600 pounds of butter to Columbus and raised three litters of hogs that they sent to Cincinnati," Culek says. In addition, the Omans constructed the red, cupola-topped barn, which is still in use at Slate Run, in 1881. The barn has hand-hewn beams and mortise-and-tenon joinery, and the Omans built it big enough for housing livestock, stockpiling straw and hay, and storing the equipment needed to grow oats, wheat, and other crops.  
Because of Slate Run's emphasis on authenticity, all its animals and plants were common on Ohio farms during the 1880s. That's why you'll see heritage breeds such as Merino sheep, which were prized for their fine wool, grazing in the pastures; brown Buckeye chickens, which provided meat as well as eggs, pecking in the poultry yards; and fat Poland China hogs, which were developed in southwest Ohio in the 1840s, wallowing outside the hog shed. Since farm families once used Poland China lard for everything from cooking to greasing their shoes, Slate Run's educational programming even includes a hands-on laundry day that includes pig fat. People get to help the farm wife by scrubbing clothes on a wooden washboard, and they see how farm families made their own soap from lard and lye.
Understanding that doing the laundry once meant spending an entire day bent over a washtub is only one of the lessons that Slate Run teaches about farm life before electricity, mechanization, and indoor plumbing. By working the hand pump in the farmhouse yard, visitors learn that getting water was once quite a chore. The root cellar illustrates how families like the Omans kept carrots, turnips, and beets in sawdust because they had no refrigerators or freezers. And since the farmhouse lacked air conditioning, they habitually tried to beat the heat by disassembling the cookstove and moving it into the summer kitchen — a separate structure where Slate Run interpreters now demonstrate how farm wives managed to feed their families year-round by preserving vegetables, pickles, and jams in glass jars.  
A visit to Slate Run also helps develop an appreciation for how the everyday rhythms and routines of farming vary with the seasons. As a result, says Culek, "People tell us that no matter how many times they come here, they always find something different or new." 
For example, those who visit in the spring will see frisky piglets that were born on the farm; by summer, those same piglets will have grown portly and enjoy a snooze in the shade, and in December, they're hanging in the smokehouse.  
Both guided and self-guided tours of the farm are available, and since admission is free and there's no gift shop, visitors never have to stand in a line or open their wallets to journey into yesteryear. "There is nothing for sale," Culek says. "This is a place for families to step back and enjoy time together; to play on a rope swing or try walking on stilts; and to discover the past."  
Slate Run Historical Farm, 1375 State Route 674, Canal Winchester, OH 43110. Open 9 a.m.–6 p.m. Tuesday, Wednesday, Thursday, and Sunday and 9 a.m.–7 p.m. Friday and Saturday from April 1 to Sept. 30; hours change for fall and winter, and some activities are limited and buildings closed from January through March (check website for details). 614-833-1880.