The sounds of high-pitched laughter and delighted squeals fill the air on this late-spring Saturday afternoon at Carthagena Park in rural Mercer County as youngsters scramble over brightly colored playground equipment.
Those happy sounds, from children who are mostly unaware of the story behind the beautifully and caringly renovated park, help console the entire community, and specifically the family of the three brothers in whose memory the equipment was dedicated.
Gary, Brad, and Todd Wuebker were often described by relatives and friends as the perfect trifecta — brothers who worked hard, played hard, and lived life to the fullest. They also were brothers who lived and died doing what they loved: working together on the family farm. 
From celebration to tragedy
Not far from the park, the boys' mother, Nancy Wuebker, sits in her kitchen at GBT Family Farm, in the heart of Midwest Electric co-op territory. She recalls the events of Aug. 10, 2021, that forever changed the lives of her family and the close-knit farm community they call home.
"It was so unusual to have all three boys home for lunch, so we celebrated with pizza," she says. "I remember them here around the table, eating, talking, and laughing. They seemed to have all the time in the world before heading outside to tackle farm chores that never seem to end."
The otherwise quiet afternoon was shattered when 35-year-old Brad rushed back to the house yelling for his mom to get help. His older brother, Gary, 37, and younger brother, Todd, 31, had gone into the manure pit to repair a pump and they were no longer responding. She grabbed the cell phone, dialed 911, and ran outside, only to discover that Brad had entered the pit to help his brothers.
Sirens from three ambulances and assorted fire trucks filled the air. Grim-faced first responders converged on the scene along Coldwater Creek Road, hoping for the best yet fearing the worst. They knew from their training that manure pits can generate toxic gases that, depending on concentration levels, can cause a range of complications from inflamed eyes or difficulty breathing to collapse and death.
An empty house
The brothers, all unconscious, were rushed to Mercer County Community Hospital in Coldwater, where medical personnel were unable to save Gary or Todd. Brad, who hadn't been in the pit quite as long, was taken by helicopter to a hospital in Fort Wayne, Indiana, but succumbed several hours later.
Their father, John Wuebker, had been en route to a Dairy Farmers of America board meeting in Medina when he got a notification on his phone about an accident at the farm, which he operated along with his sons. He immediately turned around and headed back to Mercer County. He discovered the overwhelming loss upon his arrival at the hospital. "We came home to an empty house," he says quietly. "We had been blessed with three sons and now they were all gone."
Early the next morning, after a long, sleepless night, John headed out to the barn; work, of course, never stops on the farm. He found family, friends, and neighbors had already arrived to help.
"This was a terrible tragedy," Nancy says. "But you cannot believe the outpouring of love and support that we have received and continue to receive."
Comfort and renewal
Messages of sympathy and support came from near and far, from longtime friends and complete strangers. Soon after, friends organized a fundraiser.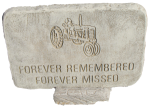 Donations poured in, and a decision was made to purchase agriculture-themed playground equipment for the community park, where the brothers used to play baseball for the Carthagena Cardinals. Three shade trees and three comfortable benches, all marked with commemorative plaques, completed the renovations. 
"Our park runs on a shoestring budget," says Alan Kremer, president of the park board. "We could never afford something like this. It is truly a gift from heaven." 
Dedication ceremonies took place last year on the first anniversary of the tragedy, and nearly 1,000 people came out for the observance — which included barbecued chicken dinners, music, and cornhole games. Mark Hoying, a local priest and a family friend, blessed the park, including the new playground equipment, using a small tree branch to disperse holy water. 
Attendees shared poignant memories and comforting hugs. There were plenty of tears for the brothers, but lots of smiles, too.
Memories, eternal
In the months since the 2022 dedication, a large cow-shaped plaque with a photo of the brothers has been mounted on the side of the enclosed picnic shelter (shown in the photo gallery). The plaque is also inscribed with their eulogy, written by cousins Diana Kramer and Kevin Wuebker, describing the men in loving detail to keep their memories alive in perpetuity.    
Gary, the oldest, lived at the farm and also worked part-time at Mercer Landmark, the local farm co-op, where he was known as Mr. Fix-It and was often called upon when something broke or needed revamping. Gary loved working with the cattle and never complained when he had to get up at night to check on the herd or deliver a calf. He sometimes bottle-fed a new arrival to make sure it got a good start in life.
Brad, the middle brother, was so proud of the house he had recently purchased near the farm. He also worked at Mercer Landmark, where he took special interest in keeping the tractors clean and in tip-top shape — particularly the trusty Ford New Holland 8770. Brad enjoyed spraying weeds and working with the hogs, and always made sure everything was in its rightful place. 
Todd, the youngest, worked at Rindler Truss. He was the construction guy who built whatever was needed on the farm — a fixer, like Gary. He also had a passion for the dairy herd, and had a knack for managing the computerized robotic milking system. Most of all, though, Todd enjoyed being a dad. He and his wife, Angela, already had two children — Ava and Levi — and were eagerly awaiting the birth of their third child. Their daughter Everly arrived just weeks after the accident. 
Although neither Gary nor Brad was married, it was not unusual for the pair to argue good-naturedly about which one was the best uncle. Family members proclaim it was a tie.
Family tradition
"From the time they were little, our boys only wanted to be farmers like their grandpa, dad, uncles, and cousins," Nancy says. "Farming was definitely in their blood. We preached safety; they grew up knowing the dangers as well as the rewards."
She recalls the boys helping in the garden as youngsters, and how they quickly escaped to the barn as soon as the last weed was pulled and the last row was hoed. They never turned down a chance to drive the tractor, and always worked as a team when it came to planting, harvesting, and baling hay. No one complained about the long hours or the seemingly endless array of chores.  
Although dairy and field work remains virtually unchanged, the family decided to sell the hogs as a means of reducing the workload, and nephews now help with day-to-day chores around the farm; nevertheless, retirement is not nearly as close as John once envisioned.  
Tears still come from time to time, but the Wuebkers say family, friends, and faith sustain them in their loss, and they often cite John 15:13 — "Greater love has no one than this: to lay down one's life for one's brother."
"I sometimes wonder why they all ended up in the pit that day," Nancy says. "They went to help each other, like always. Deep in my heart, I know one could not have gone on without the others. They did everything together in life and now they are together in eternity."  
Editor's note: Though she shares their surname, author Margie Wuebker is not related to the subjects of this story.