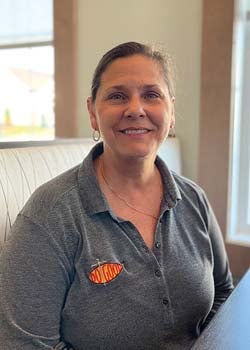 Karen Homan wouldn't categorize herself as anything more than ordinary — a farmer's wife, a mother, a grandmother. What she has helped to create in the small Darke County community of Osgood, however, is nothing short of extraordinary. 
Homan (pictured at left), with the help of local families and businesses, has built a unique restaurant and ministry called Do Good, in the middle of what is known as the Land of the Cross-Tipped Churches in west-central Ohio. In October 2021, less than two years after opening its doors, Do Good reached the milestone of $1 million donated to local causes.
Homan, who started the project with no previous experience running a business, says she was guided by the Holy Spirit after she was called to action while in her kitchen one day. 
"There was a voice telling me, 'There are many good people in the world, but they are not coming to my churches. People are so busy with work, schedules, and children that they don't have time for me — but they will go out to eat,'" says Homan, a member of St. Marys-based Midwest Electric.
While admittedly hesitant and concerned about whether she would have to sell the family farm to help pay for it, Homan got to work. She says she was skeptical at first, and often tested the voice by setting deadlines to receive often even large donations, but they were always met; she never had to sell the farm.
She says she was guided to various people along the way, from architects and business consultants to a chef and other staff — many of whom she didn't know and most of whom she anticipated would think she was crazy — who helped her make the mission a reality. 
Although Homan had wondered if a busier, more traveled area would be better, the Osgood location has been a perfect fit. The restaurant sits on the corner of four counties — Darke, Auglaize, Mercer, and Shelby — and, as people from different towns contributed, she says it felt like the restaurant and ministry were shared by everyone. 
The restaurant seats 150 patrons in a main dining room, small side area, and upper room that overlooks the main floor and features a large Last Supper mural. Breakfast, lunch, and dinner menus developed by head chef Alicia Vanderpool offer something for everyone, including a take-home family casserole option.
There are more than 360 people who work at the restaurant and ministry — 45 paid employees and the rest volunteers — including Homan, who often will spend upward of 50 hours per week helping out in some way or another. She credits the staff for Do Good's success.
"I have no idea how it all runs so smoothly. I don't know how to do a lot of the things around here, but somehow it just works," says Homan. 
The waitstaff accepts tips, but they don't take those tips home; instead, they're donated to a specified individual or family in need each month. The million dollars raised in tips and donations in the first 20 months of operation was spread among more than 20 local individuals, families, and causes.
"Some people may not want to give to charity, but people will leave a tip because it's customary," says Homan. "They feel good because that tip helped a person or family in their community. People have been abundantly kind and generous." 
While this wasn't necessarily what Homan had planned for this stage of her life, she says she finds joy in being able to spread the ministry, and she's always on the lookout for more ways to bring people together to "do good."
In addition to the restaurant, Do Good has added a baby outreach, which provides free blankets and caps or bonnets to area newborns; Bible studies for youth, teens, and adults; exercise classes; tutoring for K–12 students; honor meals for volunteers from local organizations; and a health and wellness clinic to serve the community. The restaurant grounds have expanded and now include a rosary garden, a children's memorial garden park, and a splash pad. 
"There's always such a joy and peace when I talk to people, and I'll see their recognition that God is real, she says. "Just to know people are coming to recognize God is joyful — and the apple dumplings are pretty good, too." 
---
Do Good Restaurant and Ministry, 25 W. Main St., Osgood, OH 45351. Open Monday through Saturday. 419-582-GOOD (4663) or www.dogoodrm.com.