Ohio's writers, poets, authors, and musicians have left lasting impressions on Supreme Court judges, inspired presidents, and moved the entire nation to change its opinion. Their stories, songs, poetry, and literature have graced the silver screen, won Pulitzer and Nobel prizes, and helped create a whole new genre of fiction. Ohio's erudite literary talent even helped define the English language itself. 
The Ohioana Library Association, a nonprofit literary organization, has dedicated itself to preserving and promoting Ohio authors and their works, and to that end, published the first Ohio Literary Trail in 1957 to honor and highlight artists and their cultural contributions. 
The trail showcases more than 70 landmarks, including historical buildings, libraries, and markers, as well as festivals that commemorate Ohio's literary contributions. The publication took the form of a printed map for the first several decades of its existence. In 2020, the trail went online, where it now features an interactive map that divides the state into five regions. Each section of the site contains links and information about the destinations within the region. The map is downloadable and — perhaps as a subtle nod to its past — is also printable.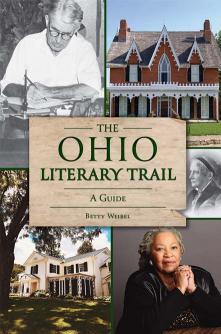 David Weaver, executive director of the Ohioana Library, said the digital map has been met with incredible enthusiasm. "Even though we launched it during a pandemic, we have been thrilled with people's response to it."
The Ohio Literary Trail isn't all about authors who have been relegated to the pages of history. "We felt it was important to include interaction with current writers at events in each of the regions — celebrations where you can meet present-day Ohio writers and learn about their work," says Ohioana board member Betty Weibel. 
With so many treasures to explore on the trail, it can be hard to figure out where to start — so we asked Ohioana Library Association board members and their program director, Morgan Peters, to share some of their favorites. 
Northwest
Jennifer Fisher/Nancy Drew Exhibit, Toledo-Lucas County Public Library
Carolyn Keene, the author's name that appears on the covers of the Nancy Drew mystery novels, is a pen name for 28 individuals who have ghost-written the series over the decades. The first writer hired to author the books was also the one who made the series a bestseller: Mildred Wirt Benson, who wrote under the pen name from 1929 to 1947. In addition to writing several non-Nancy Drew novels, Benson also worked as a weekly columnist at the Toledo Blade for 56 years. 
The exhibit, located in the aptly named Mystery Room, displays paintings, books, magazines, and other items related to the TV shows and movies. All 135 of Mildred Wirt Benson's books and her newspaper articles are preserved here.
Northeast
Malabar Farm State Park, Lucas
In 1938, Pulitzer Prize-winning author, Hollywood screenwriter, and conservationist Louis Bromfield built a 32-room house among the rolling, wooded hills near Mansfield. While Bromfield's main goal was to advance agriculture and environmentalism, he managed to combine Hollywood celebrity with farming. His close friends Humphrey Bogart and Lauren Bacall were married at his house, and several Hollywood stars, including James Cagney, Clark Gable, Errol Flynn, and Carol Lombard, regularly visited to roll up their sleeves and work in the dirt for their stay. While the Hollywood spotlight now shines elsewhere, thousands of visitors tour the working farm each year to explore the house, walk the wooded trails, or stay overnight in the cabin.
Southwest
Paul Laurence Dunbar State Memorial, Dayton
Paul Laurence Dunbar was the first internationally acclaimed African American poet. Born to parents who were freed slaves from Kentucky, Dunbar grew up to be a groundbreaking poet and writer who produced over 400 works in his short lifetime. His house became the first state memorial in Ohio to honor African American history and sits not too far from another museum that honors two of his close friends: the Wright Brothers. 
Central Ohio
The Wagnalls Memorial, Lithopolis
Adam Wagnalls was co-founder of the publishing company Funk and Wagnalls, which was best known for its dictionaries and encyclopedias. "Put that in your Funk and Wagnalls," a common phrase heard throughout the mid-20th century, was a colloquial ode to the popularity of their dictionary. The memorial, built and dedicated to Adam and his wife, Anna, from their daughter, Mabel Wagnall, is a Tudor-Gothic structure featuring soaring architecture and lush interior decorative details. Gardens, a tower, a formal entrance hall, and a library are among its many offerings. 
Thurber House, Columbus 
Ohio State University alumnus and Columbus native James Thurber's cartoons and short stories were a regular feature in the New Yorker and have also appeared as theater and movie productions. The house on Jefferson Avenue is where he lived from 1913 to 1917. Now a historic landmark, museum, and intellectual salon for readers and writers, Thurber House features workshops, writer residencies, and regular visits from local and national authors.
Southeast
National Road and Zane Grey Museum, Norwich
U.S. 40, also known as the National Road, was a vital link to the western frontier during the 19th century. While the highway may have opened the western frontier to the rest of America, author Zane Grey was responsible for popularizing the rugged lifestyle through the fiction genre known as the western. Born in Zanesville and originally a dentist, Grey took up writing in 1905 and wrote over 50 western novels in his lifetime. His prolific work shaped the genre both in print and on television and movie screens. The museum highlights Grey's literary impact on American culture with an exhibit of his manuscripts and personal effects.