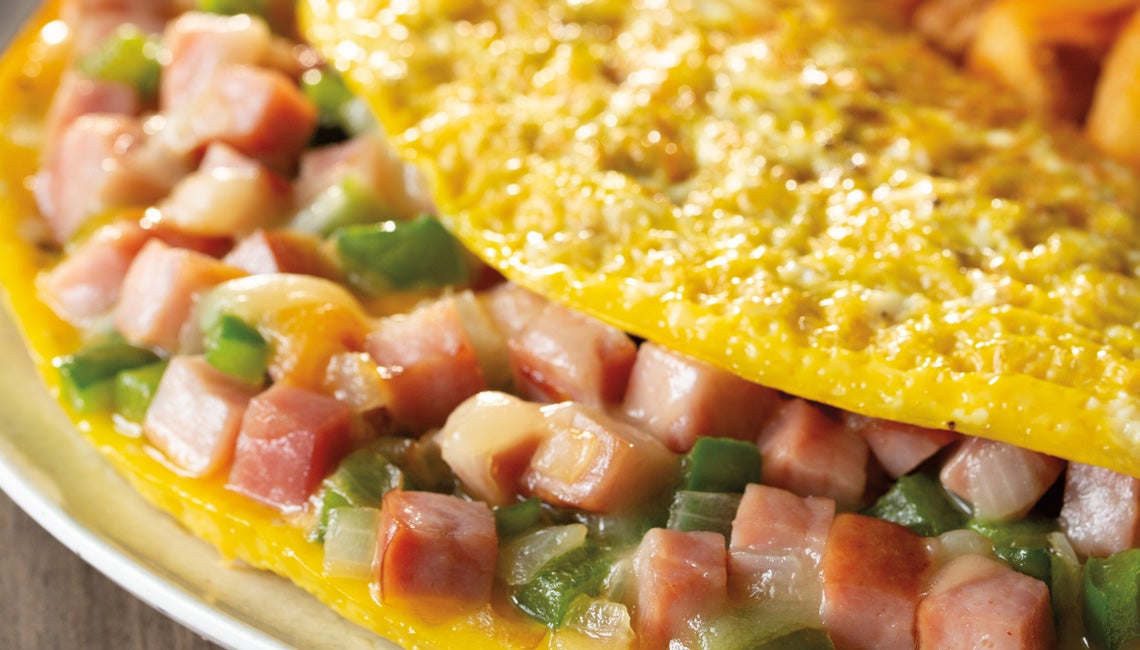 Preparation time
10 minutes
Ingredients
1⁄4 cup
smoked ham (diced)
1⁄4 cup
white onion (diced)
1⁄4 cup
green bell pepper (diced)
1⁄3 cup
shredded white cheddar cheese
Instructions
In a small bowl, beat eggs with 3 teaspoons water, salt, and pepper. The next paragraph of steps can be done in two skillets simultaneously or in one skillet consecutively.  
In a 10-inch skillet, melt butter over medium-high heat. Add ham, onion, and bell pepper. Cook and stir until vegetables soften and lightly brown, about 5 minutes, then remove from heat. Generously coat a clean 10-inch skillet with cooking spray and place over medium-low heat. Carefully pour in eggs and cover with lid. Let cook untouched for 5 minutes until they are a little wet but not runny. Sprinkle cheese across the whole skillet and spoon ham and vegetables over one half. Cover with lid and cook another minute to melt the cheese.
Remove lid and lightly run a spatula around the edges of the eggs to loosen. Carefully fold cheese side over the ham side and slide omelet onto a plate. Serve with potatoes, simple salad, or toast.
Notes
Per serving: 308 calories, 23 grams fat (11 grams saturated fat), 417 milligrams cholesterol, 770 milligrams sodium, 4 grams total carbohydrates, 1 gram fiber, 20.5 grams protein.