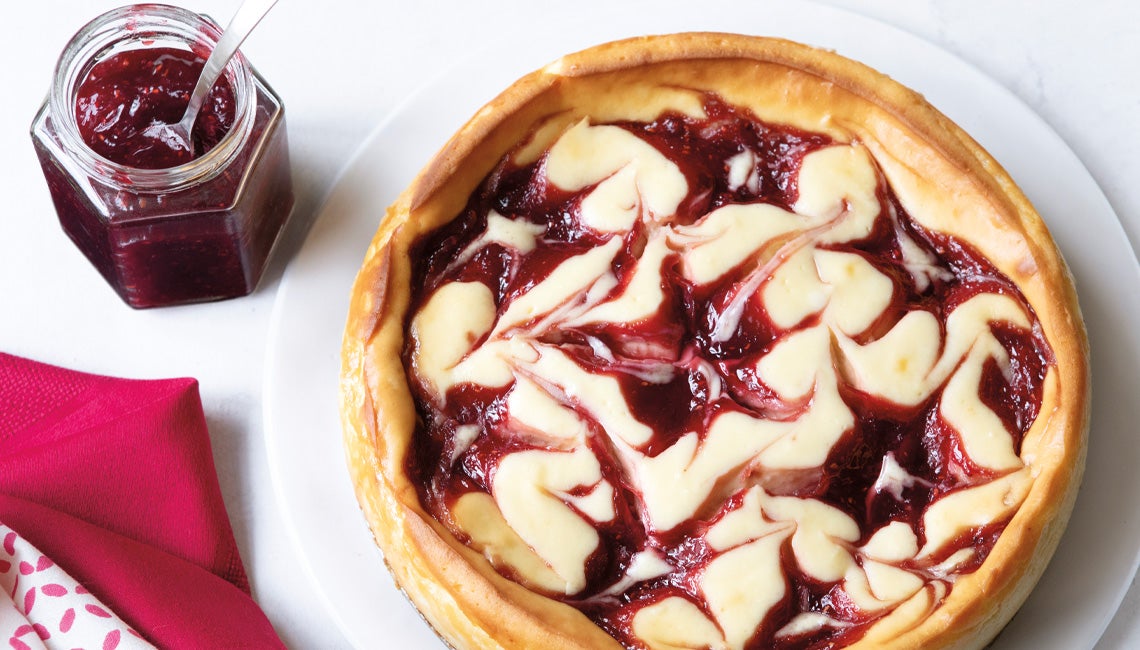 Preparation time
20 minutes
Cooking time
1 hour, 10 minutes
Total time
7 hours, 30 minutes
Ingredients
6 tablespoons
unsalted butter
8 ounces
graham cracker crumbs (about 2 cups)
3
8-ounce packages of cream cheese (at room temperature)
3
large eggs (at room temperature)
2 teaspoons
vanilla extract
Instructions
Combine butter and crumbs, then press into a buttered springform pan. Using an electric mixer with paddle attachment, beat cream cheese and sugar on medium-low for 2 minutes, scraping the bowl a few times. Beat in sour cream, then eggs one at a time, then vanilla, beating well after each addition. Pour half the batter over the graham cracker crust. In a small bowl, combine jam with lemon juice. Evenly space 5 small spoonfuls of jam mixture onto the batter. Using a skewer, ice pick, or thin knife, start in the middle of each dollop of jam and pull out toward the cheesecake batter, continuing to return to the middle and pull outward to create a curved star-like pattern. If there are still large patches of white cheesecake, add small dots of jam and create the same pattern by starting in the middle and pulling outward toward the cheesecake batter. Pour remaining cheesecake batter over the jam, lightly smooth out the top, then follow the same instructions, placing spoonfuls of jam mixture and creating the same star-like pattern.
Preheat oven to 350 F. Place a roasting pan with hot water on the bottom rack. Bake cheesecake for 60 minutes on middle rack before opening the oven door, then check doneness — it's ready when the edges stay firm and slightly puffed and the center is a little wobbly when jostling the pan. Continue baking in 5- to 10-minute increments until done.
Set pan on a wire rack to cool completely (about an hour), then wrap the whole pan in plastic wrap and chill for 5+ hours. Remove from fridge 30 minutes before serving. Pull off pan sides and bottom and place cheesecake on serving platter. Cut slices with a thin, non-serrated knife, or try thick fishing line pulled taut. Wrap and refrigerate for up to 5 days or freeze for up to 3 months and thaw in the fridge when ready to eat.
Notes
Per serving: 502 calories, 32 grams fat (19 grams saturated fat), 132 milligrams cholesterol, 313 milligrams sodium, 47 grams total carbohydrates, 0.5 gram fiber, 8 grams protein.