Red Pepper Jelly-Glazed Chicken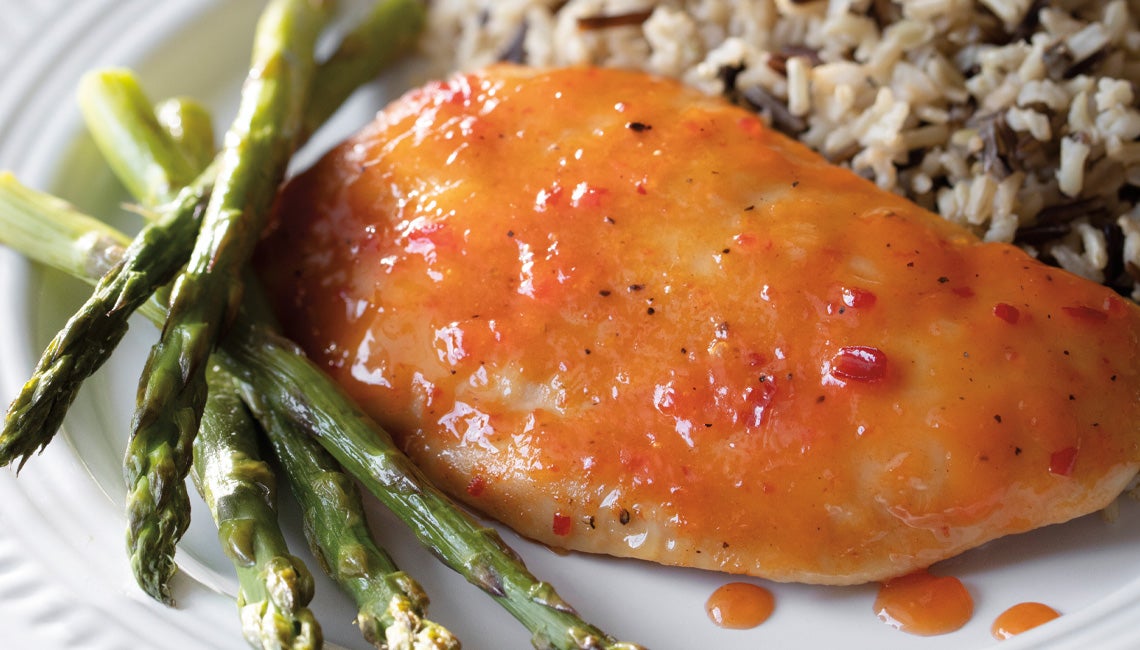 Preparation time
10 minutes
Ingredients
1 1⁄2 tablespoons
Dijon mustard
1 1⁄2 tablespoons
lemon juice
1⁄4 teaspoon
black pepper
1 pound
thin, boneless, skinless chicken breasts
Instructions
Say you've been gifted some pepper jelly, or you see it on a store shelf and wonder, "What would I ever use this for?" Here's your answer! There are many varieties of pepper jellies out there: Hot Pepper Jelly, Jalapeño Jelly, Hot Pepper Bacon Jam, and different combinations of peppers and fruit, like Pineapple Pepper Jelly. The red pepper jelly in this recipe is relatively mild, sweet, and flavorful, just like a red bell pepper. As a bonus, the glaze can be transformed into a delicious salad dressing by adding ¼ cup of olive oil and a dash of salt.  
Preheat oven to 400 F. In a small bowl, whisk together all ingredients listed except chicken. Lay chicken breasts flat in a baking dish coated with cooking spray. Spoon and spread glaze evenly over each breast, then flip and coat the other side. Spoon any remaining glaze into the bottom of the dish. Bake uncovered on the middle rack for 18 to 20 minutes, or until cooked through. Serve with your choice of side dishes (asparagus and wild rice shown). Have some pepper jelly left over? Spread on a buttermilk biscuit or crackers.
Notes
Per serving: 288 calories, 9 grams fat (2 grams saturated fat), 101 milligrams cholesterol, 192 milligrams sodium, 19 grams total carbohydrates, 0 grams fiber, 33 grams protein.