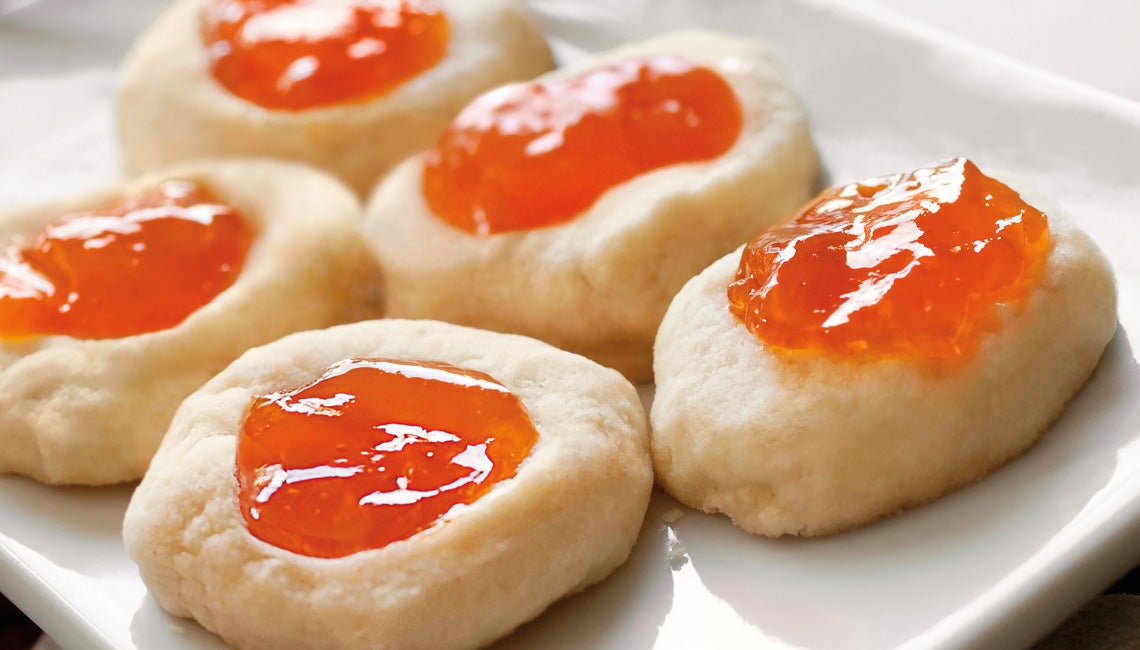 Preparation time
20 minutes
Ingredients
1⁄4 cup
packed light brown sugar
1⁄4 cup
unsalted butter (softened)
6 ounces
jam or jelly of your choice
Instructions
Mix brown sugar, shortening, butter, egg yolk (reserving white), and vanilla with an electric mixer until fluffy and well incorporated. Mix in flour and salt until dough just holds together. Dip fingers in egg white and shape dough into 1-inch balls; place on an ungreased baking sheet. Press thumb down in the center of each, leaving an indentation for jelly or jam.
Preheat oven to 350 F. Bake 10 minutes or until a light golden brown. Transfer cookies to wire rack to cool. Using a small spoon, fill thumbprint craters with jam (apricot jam shown). If you prefer your cookies to be extra neat and tidy, heat jam in the microwave for 10 to 20 seconds to loosen it a little — it will cleanly fill the thumbprint. Store in an airtight container for up to 3 days. Makes 15 cookies.
Notes
Per serving: 275 calories, 15 grams fat (6.5 grams saturated fat), 41 milligrams cholesterol, 102 milligrams sodium, 35 grams total carbohydrates, 0.5 gram fiber, 3 grams protein.