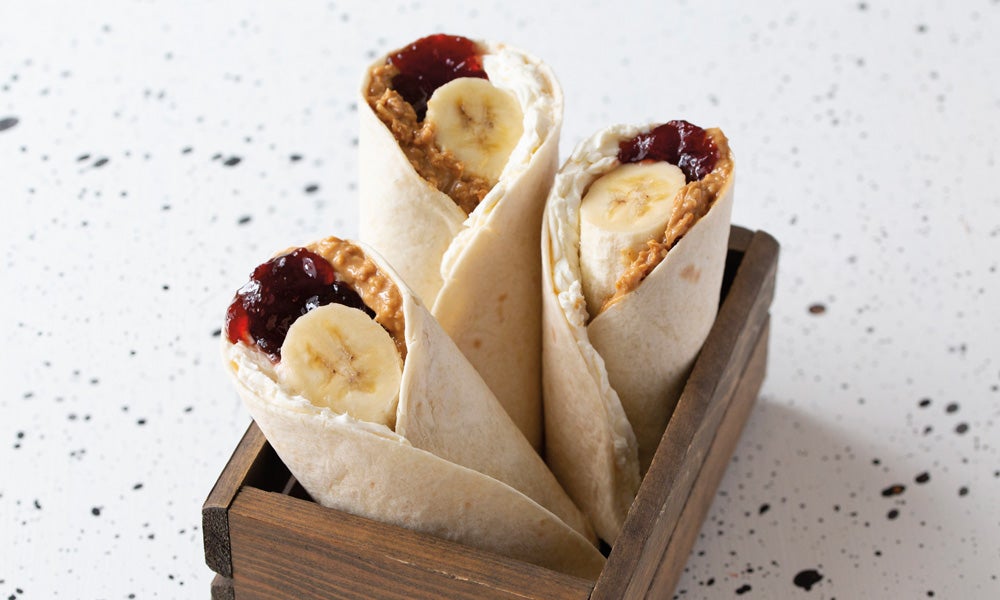 Preparation time
5 minutes
Ingredients
2 tablespoons
chunky peanut butter
1 tablespoon
jelly or jam of choice
Instructions
Warm up flour tortilla in microwave for 10 seconds to make it easier to roll without cracking. Spread cream cheese evenly over half of the tortilla (to the edges). Spread the peanut butter on the other half (to the edges). Spoon and spread jelly down the middle, then place banana on top. Roll up tightly and seal. Cut in half lengthwise to share. Off you go with a tasty and filling snack!
Notes
Note: Adjust measurements to your liking — you know your preferred PB&J ratio! These can even be refrigerated for up to 3 days ahead.
Per serving: 245 calories, 10 grams fat (4 grams saturated fat), 16 milligrams cholesterol, 272 milligrams sodium, 34 grams total carbohydrates, 3 grams fiber, 4.5 grams protein.