Cinnamon Butter-Stuffed Sweet Potatoes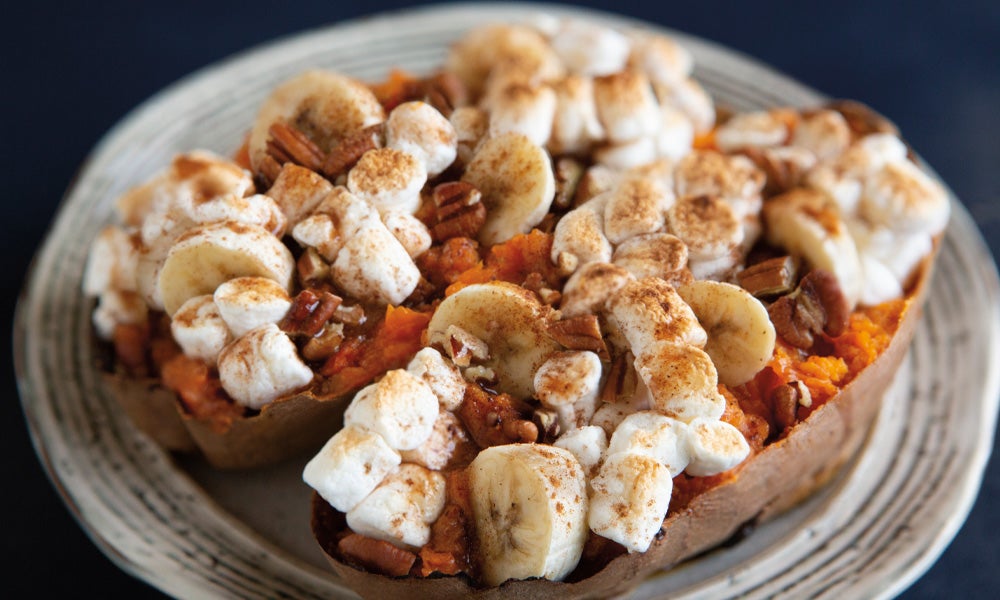 Preparation time
10 minutes
Total time
1 hour, 10 minutes
Ingredients
2 tablespoons
cinnamon butter (Recipe below)
4 tablespoons
chopped pecans
1⁄2 cup
miniature marshmallows
For Cinnamon Butter
Additional Ingredients
1
stick unsalted butter (softened)
Instructions
Preheat oven to 400 F. Poke some holes in the skin of the sweet potatoes with a fork and place on a baking sheet. (Sweet potatoes leak sticky syrup when baking.) Bake 45 to 60 minutes, or until potatoes are soft when lightly squeezed. Meanwhile, make cinnamon butter by combining butter, honey, powdered sugar, and cinnamon with an immersion blender or food processor. Set aside.
Remove potatoes from oven and cool on baking sheet for a few minutes until they're easier to handle. Slice potatoes in half lengthwise and fluff/mash the insides a bit with a fork. Slather cinnamon butter over the open potatoes, tuck in banana slices and sprinkle with marshmallows, pecans, and some extra cinnamon. Turn oven to broil and place baking sheet back in the oven, keeping a close eye. Warm and toast marshmallows to your desired color. Serve while hot.
Notes
NOTE: Try the cinnamon butter on pancakes, muffins, biscuits, toast, and peanut butter sandwiches. The stuffed sweet potatoes are perfect for a decadent breakfast or warming winter dessert. 
Per serving: 521 calories, 22 grams fat (8 grams saturated fat), 31 milligrams cholesterol, 254 milligrams sodium, 80 grams total carbohydrates, 12 grams fiber, 5 grams protein.