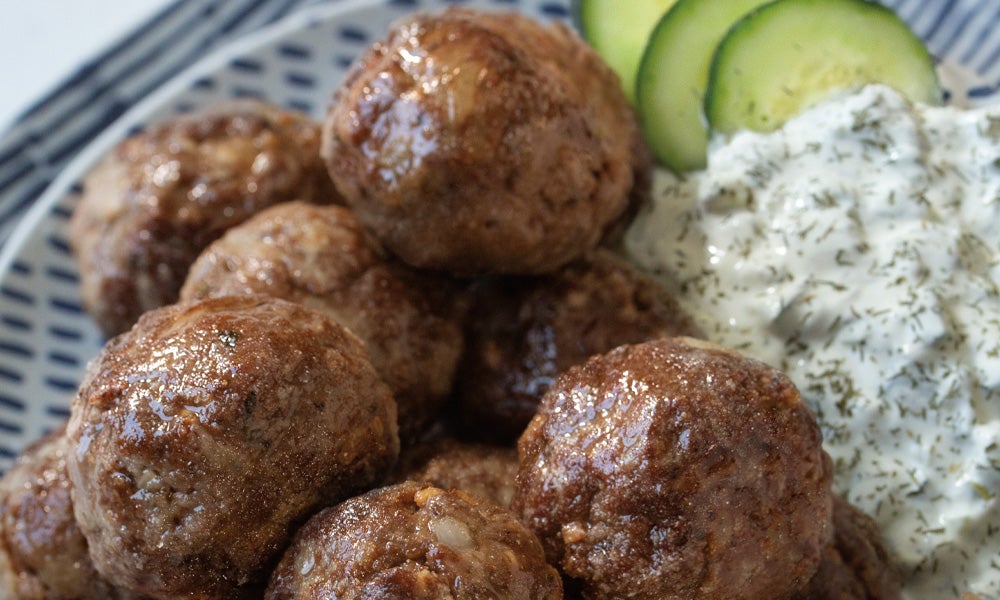 Preparation time
15 minutes
Ingredients
1
small sweet onion (minced)
1 tablespoon
ground coriander
1⁄2 teaspoon
black pepper
1
lemon (zested and juiced)
1 pound
lean ground beef or lamb
1 cup
sour cream or plain Greek yogurt
1
small cucumber (minced)
Instructions
In a large bowl, mix together breadcrumbs, onion, half of the minced garlic, coriander, cinnamon, mint, oregano, salt, pepper, and lemon zest. Add in ground meat and egg, incorporating with your hands. If you have some extra time, refrigerate mixture for 30 to 60 minutes — it will help the meatballs hold their shape.
Form mixture into 1-inch meatballs. Dredge each in flour, coating lightly then shaking off excess. Heat olive oil in medium skillet over medium-high heat. Add some meatballs, leaving space in between them. Cook 5 to 7 minutes, rolling them around to cook evenly. Transfer meatballs to a plate covered with a paper towel to soak up excess oil. Repeat with remaining meatballs.
Make Tzatziki sauce by mixing together the remaining half of the minced garlic, lemon juice, sour cream, cucumber, and dill. Dip meatballs in the accompanying Tzatziki sauce as an appetizer, or serve both on top of a pita, Greek salad, or rice bowl for a full meal.
Notes
Per serving: 355 calories, 20 grams fat (9 grams saturated fat), 111 milligrams cholesterol, 551 milligrams sodium, 18 grams total carbohydrates, 2 grams fiber, 27 grams protein.