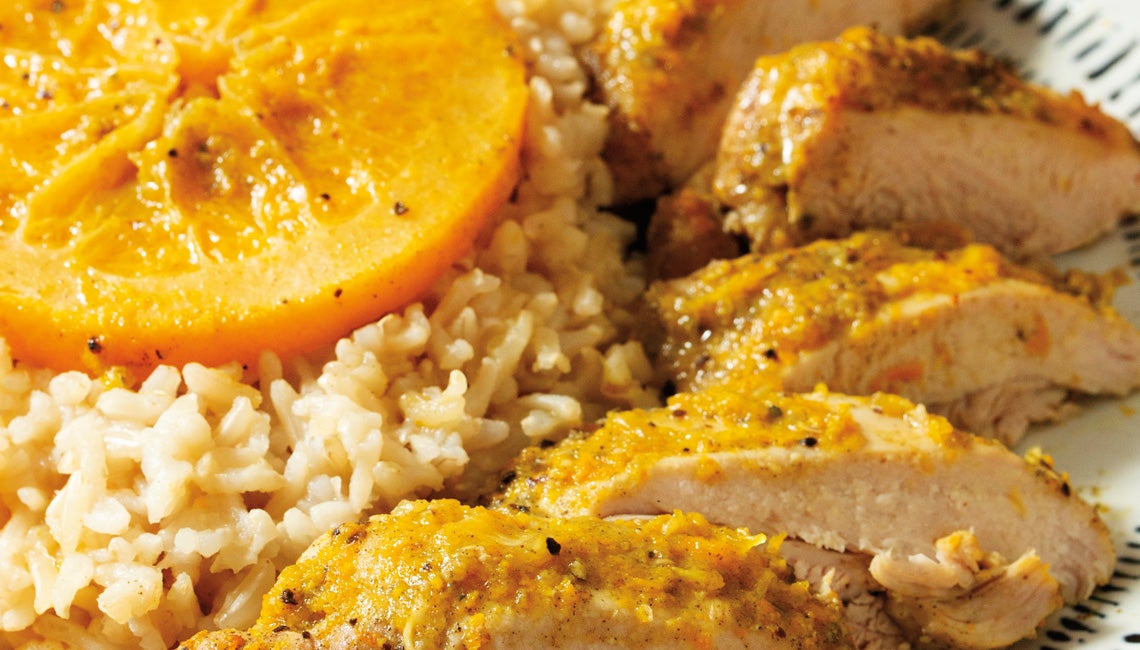 Citrus adds depth, sweetness, and sometimes a tart kick to healthy dishes. In this dish, the orange mellows in the oven, bringing a comforting warmth and lightness to the rice and chicken.
Preparation time
20 minutes
Ingredients
1 1⁄2 pounds
boneless, skinless chicken thighs
1
medium onion (finely diced)
2 cups
low-sodium chicken broth
1 cup
brown rice (basmati (shown), jasmine, or short)
Instructions
Preheat oven to 400 F. Zest and juice two of the oranges (include pulp, if desired) and whisk together with thyme, pepper, and salt in a small bowl. Slice the remaining orange into half-inch rounds and lay flat in a medium baking dish. Place thighs on top of the orange slices and pour orange juice mixture evenly across the dish. Cover dish with aluminum foil and bake 30 to 35 minutes, or until chicken reaches an internal temperature of 165 F.
Meanwhile, rinse rice in a mesh strainer and set aside to drain. In a medium pot over medium-high heat, sauté onions with olive oil for about 5 minutes. If they start to dry out or brown, pour a little chicken stock in and place a lid on top so the onions steam a bit. Locate the cooking instructions on your package of rice. Follow the instructions for amount of liquid, cook time, and cook instructions, except substitute low-sodium chicken broth for the water listed and cook the rice in the pot with the sautéed onions.
If the chicken finishes cooking before the rice, turn off the oven and let the chicken rest inside until the rice is ready. Serve platter-style or slice chicken and plate individually, spooning remaining orange sauce on top. If you're looking for a vegetable to pair with this dish, try steamed green beans, zucchini, or broccoli.
Notes
Per serving: 489 calories, 13 grams fat (3 grams saturated fat), 121 milligrams cholesterol, 325 milligrams sodium, 46 grams total carbohydrates, 4 grams fiber, 45 grams protein.