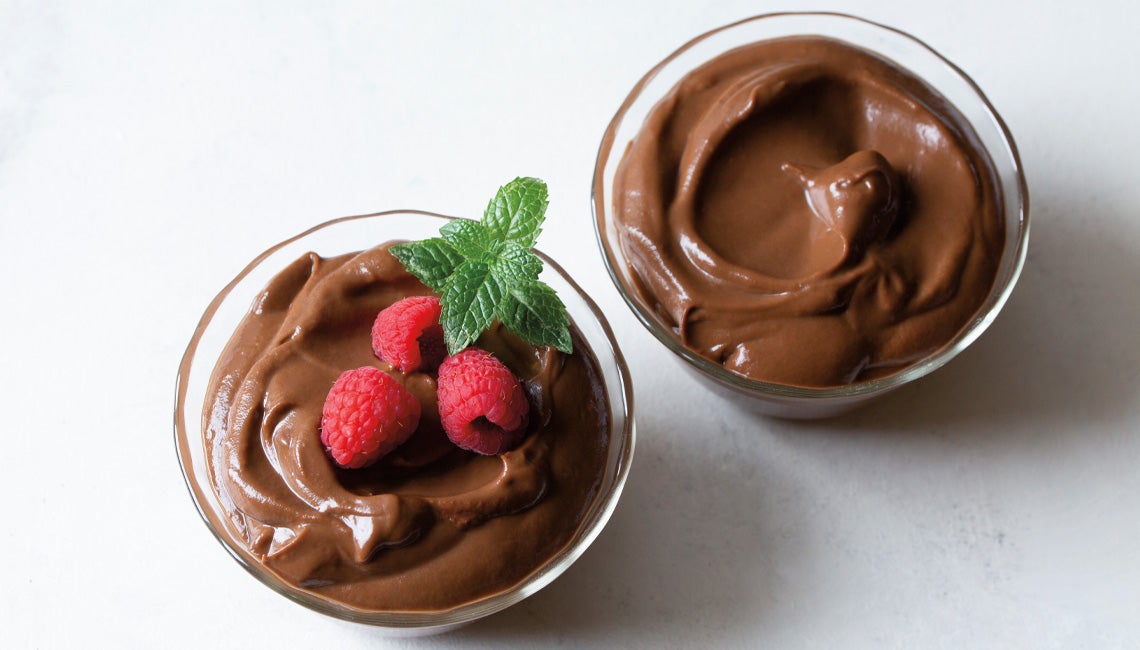 Avocado in chocolate pudding might seem unusual, but avocados contain all kinds of vitamins, minerals and healthy fats, and their mild flavor is quickly masked by the cocoa, making this an easy, healthy, vegan, and dairy-free version of a beloved dessert.
Preparation time
10 minutes
Ingredients
1⁄4 cup
unsweetened plain almond milk
4 tablespoons
pure maple syrup or agave
4 tablespoons
cocoa powder
1 teaspoon
vanilla extract
Instructions
Cut avocados in half, remove pits, and scoop the green flesh into a food processor. Add remaining ingredients (starting with ¼ cup almond milk and 4 tablespoons syrup) and blend for a few minutes, stopping twice to scrape down the sides. Add a splash more almond milk if needed to achieve desired thickness, and taste test for sweetness level. Serve chilled with your favorite toppings, like raspberries and fresh mint. Transfer leftovers to an airtight container and refrigerate for up to 4 days.
Notes
Note: Unsweetened plain soy or oat milk may be used as substitute for the almond milk.
Per serving: 275 calories, 21 grams fat (4.5 grams saturated fat), 0 milligrams cholesterol, 20 milligrams sodium, 25 grams total carbohydrates, 8 grams fiber, 3 grams protein.