Stovetop Balsamic Chicken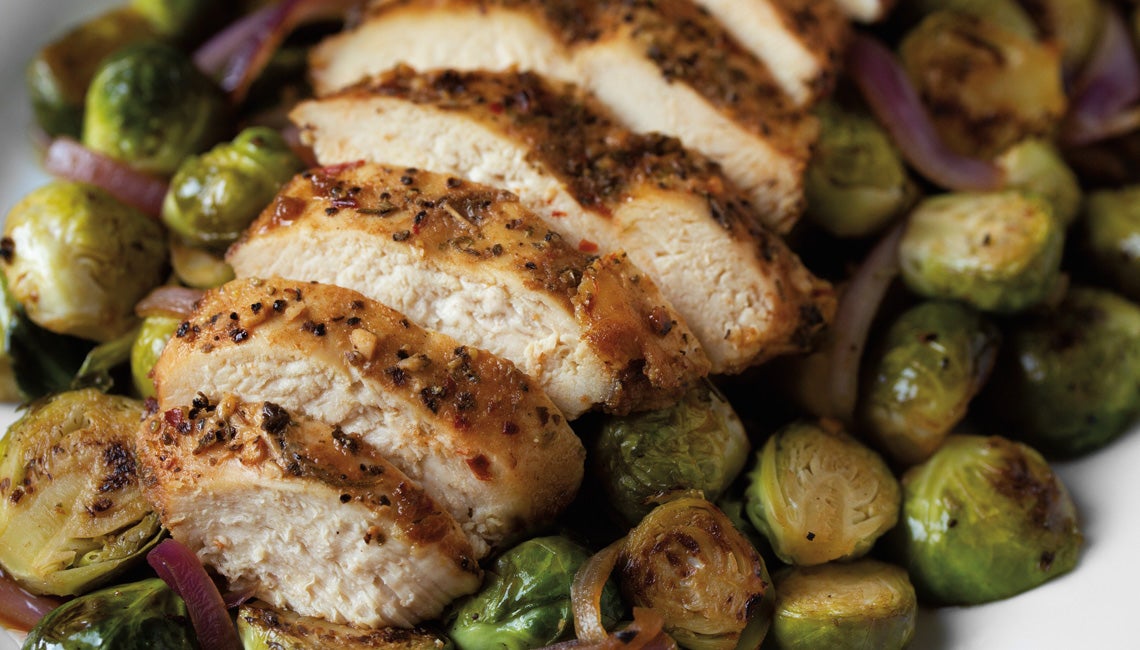 Balsamic vinegar adds tons of flavor while containing zero sodium, zero fat, and few carbs. It can also reduce blood sugar, lower cholesterol, and promote healthy digestion via probiotics.  
Preparation time
10 minutes
Total time
2 hours, 30 minutes
Ingredients
1 teaspoon
Italian seasoning
1⁄2 teaspoon
black pepper
1 pound
boneless, skinless chicken breasts
1 1⁄2 pounds
Brussels sprouts
Russian dressing, cocktail sauce, or coarse mustard (for dipping)
Instructions
In a bowl, whisk together the first 7 ingredients (from balsamic vinegar to salt) to create a marinade. Place chicken breasts in a shallow dish and pour about half the marinade on top. Cover remaining marinade and refrigerate. Cover and refrigerate chicken for 2 to 12 hours.
Remove chicken from fridge and let rest 15 minutes before cooking. Meanwhile, slice red onion into half-moons. (Cut off ends, peel, lay on a flat end and cut in half vertically, then turn on flat side and slice into thin strips.) Trim Brussels sprouts and cut in half lengthwise. Coat a large skillet with cooking spray and heat over medium burner. Sauté red onion for 5 to 7 minutes, stirring every few minutes. Set cooked onion aside and coat skillet with cooking spray again. Toss in Brussels sprouts and cook 5 minutes, stirring occasionally, until they are a little browned and crispy, then pour in ¼ cup water and steam uncovered until water has evaporated. Return onion to skillet with sprouts and coat with reserved sauce. Heat another minute or so, then transfer vegetables to a serving platter and serve with Russian dressing for dipping.
Using tongs, place chicken breasts flat in the hot skillet, pouring in all the marinade. Cover with lid and poach chicken for 9 to 12 minutes, until internal temperature reaches 165 F. Transfer chicken to a cutting board and let rest for a few minutes, then slice chicken breasts and place on top of Brussels sprouts. Serve hot.
Notes
Per serving: 327 calories, 12 grams fat (3 grams saturated fat), 67 milligrams cholesterol, 377 milligrams sodium, 27 grams total carbohydrates, 7 grams fiber, 32 grams protein.