Spicy Curry Cauliflower and Squash Soup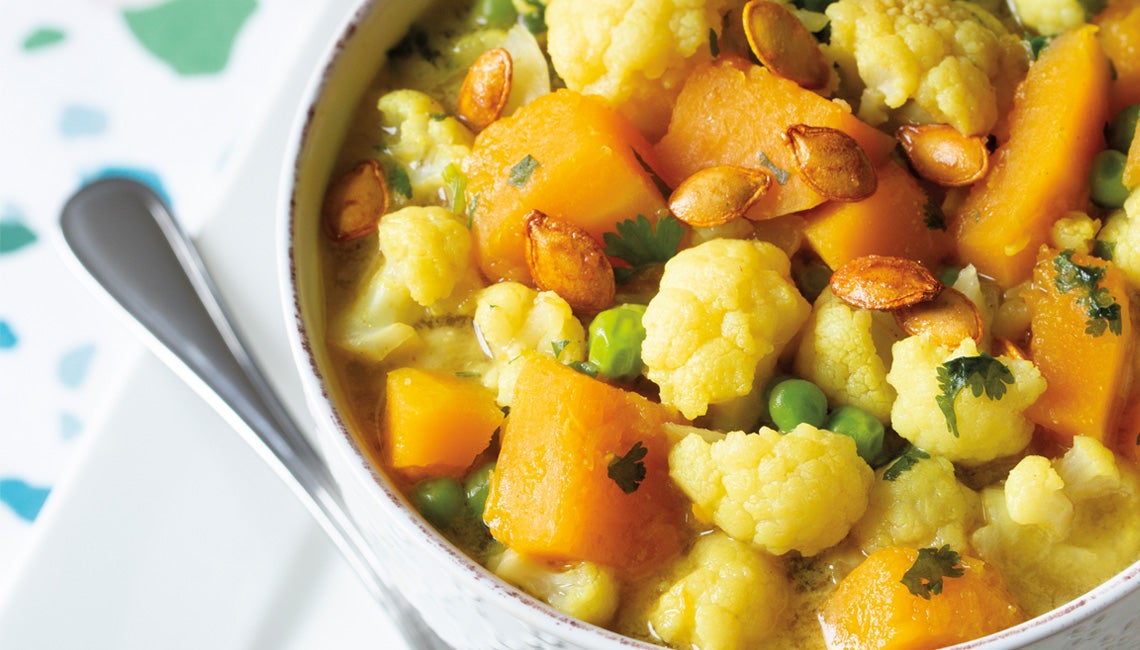 Both spicy foods and foods with a high water content promote eating less while feeling fuller.
Preparation time
10 minutes
Ingredients
1
medium butternut squash
1
small yellow onion (diced)
1
head of cauliflower (cut into florets)
13 1⁄2 ounces
light unsweetened coconut milk
32 ounces
vegetable broth ( cups)
1 tablespoon
curry powder
1⁄2 cup
fresh cilantro (chopped)
Instructions
Preheat oven to 400 F. Cut butternut squash in half lengthwise, then remove the fibrous strands from the middle, saving the seeds. Place seeds on a small baking sheet; toss with olive oil and dash of salt. Roast seeds for 5 to 7 minutes, until golden. Remove from oven and set aside to cool. Peel, then chop the butternut squash into bite-sized chunks.
In large pot, cook onion over medium heat with a splash of vegetable broth for 5 to 7 minutes, until tender. Add cauliflower, butternut squash, coconut milk, broth, curry powder, garlic powder, and black pepper. Stir and bring to a boil over high heat, then reduce to medium-low. Cover and simmer for 15 minutes, or until cauliflower and squash are tender. Stir in peas and cilantro. Cook uncovered a few minutes longer, until heated through. Ladle into bowls sprinkle roasted seeds on top.
Notes
Per serving: 230 calories, 6 grams fat (4 grams saturated fat), 0 milligrams cholesterol, 651 milligrams sodium, 36 grams total carbohydrates, 8 grams fiber, 6 grams protein.