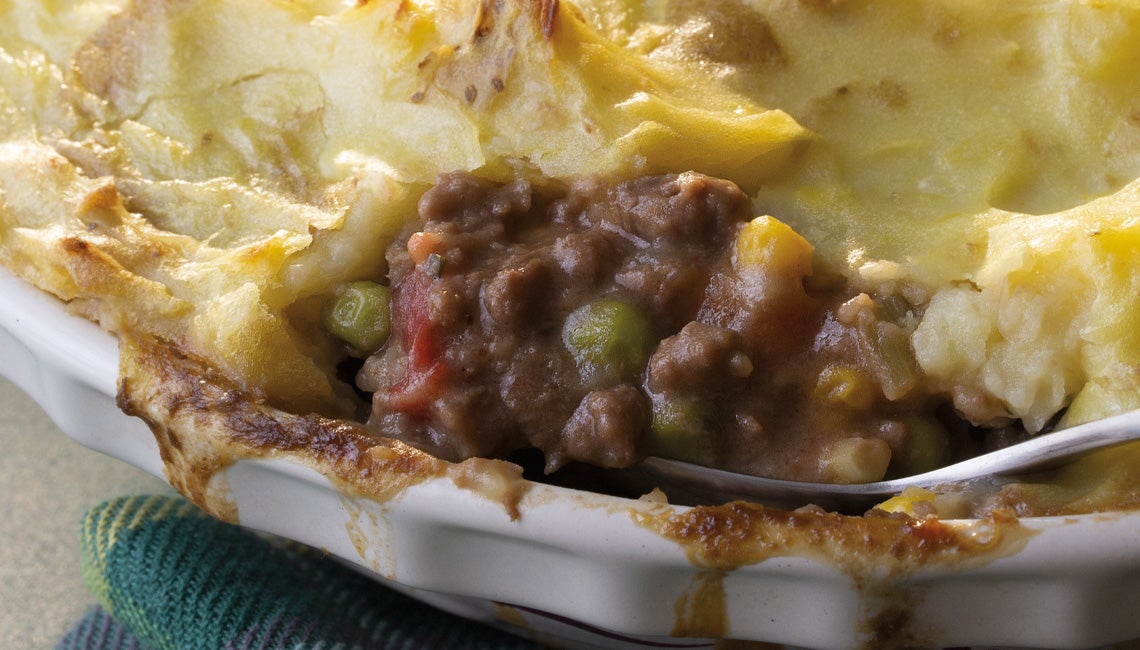 Preparation time
30 minutes
Ingredients
2 pounds
Yukon gold potatoes (cut into 1-inch chunks)
2 tablespoons
salted butter
1 cup
peas (or diced green beans)
2 cups
chopped fresh spinach
2 tablespoons
fresh sage (or 1 teaspoon dried)
1 tablespoon
fresh thyme (or 1/2 teaspoon dried)
1⁄2 teaspoon
each salt and pepper
Instructions
Summer or winter, fresh or frozen ingredients, this meal is sure to satisfy. Place diced potatoes in a large stockpot covered with water and boil 10 to 15 minutes, or until a fork can easily skewer a chunk of potato. Drain potatoes, place in a bowl with butter, and mash to desired texture. Cover and set aside.
Meanwhile, heat a large skillet over medium. Sauté onion, carrots, and celery in oil for 5 minutes. Add meat and crumble and cook until browned. Place cornstarch in a small bowl. Whisk in a little bit of the beef broth until a paste is formed, then whisk in the rest of the broth. Slowly pour into skillet with beef, add garlic, and continue cooking until sauce has thickened. Mix in peas, corn, tomatoes, spinach, sage, thyme, salt, and pepper.
Preheat oven to 375 F. Place meat mixture in the bottom of a deep pie dish, casserole dish, or cast-iron skillet. Spread out smooth, then spoon mashed potatoes all the way to the edges. Place pie in oven with a cookie sheet underneath for any bubbling liquids that may leak over the edge. Bake 25 to 30 minutes. Potatoes should be slightly browned.
Notes
Per serving: 577 calories, 18 grams fat (7 grams saturated fat), 117 milligrams cholesterol, 468 milligrams sodium, 60 grams total carbohydrates, 12 grams fiber, 45 grams protein.