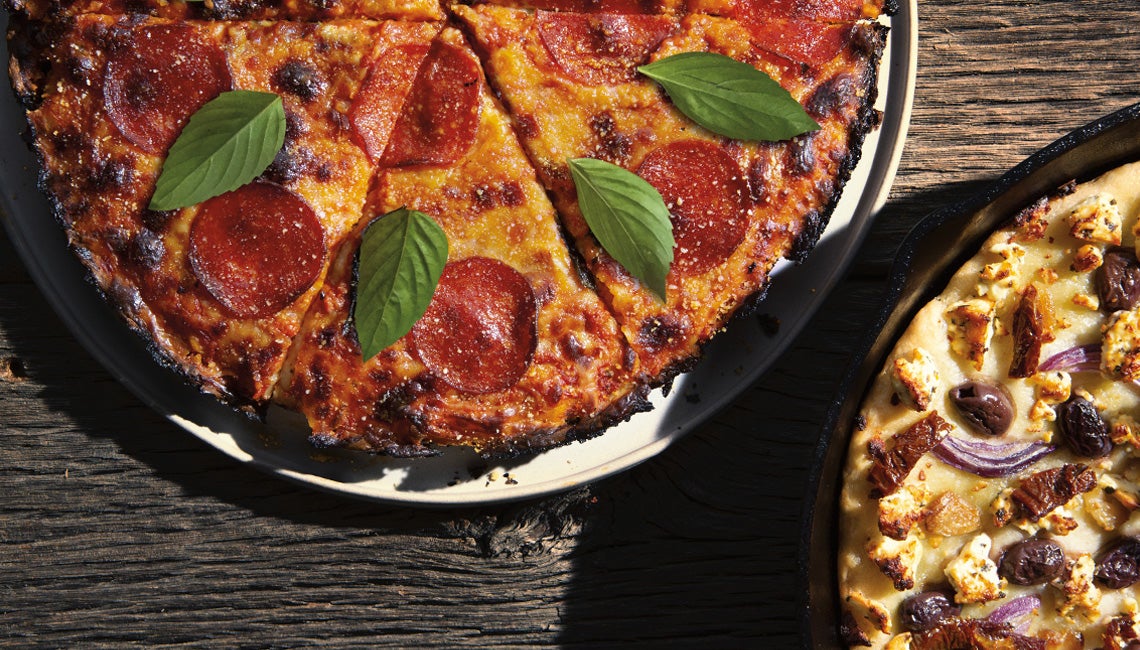 Preparation time
25 minutes
Total time
10 hours, 45 minutes
Ingredients
2 1⁄2 cups
bread flour (plus more for dusting)
1 cup
water (plus 3 tablespoons)
2 teaspoons
olive oil (plus 2 to 4 tablespoons)
2 cups
shredded mozzarella (or other cheese of your choice)
Instructions
In a 4-quart bowl (dough will need lots of room to rise), combine flour, salt, yeast, water, and 2 teaspoons olive oil. Mix with hands or a wooden spoon until no dry flour remains. Tightly cover bowl with plastic wrap so edges are sealed. Let rest 8 to 24 hours at a room temperature of between 65 and 75 F. Dough will rise significantly during this time. (If room temperature isn't within this range, the time may need to shrink or expand to accommodate.)
Dust dough with flour and transfer to a floured surface. Split into two equal pieces. Take one of the pieces and tuck the dough underneath itself and rotate 5 to 10 times until it forms a smooth, tight ball. (Don't knead or work the flour into the dough, just shape and tuck.) Repeat with other piece. At this point, you can refrigerate or freeze the dough for later use, or continue making the pizza. To store for later, seal in zipper bags, removing excess air. Once brought back to room temperature, continue the steps below.
Pour 1 to 2 tablespoons olive oil into the middle of two pans, then use each dough ball to spread and fully coat the surface of the pans with oil. With the open palm of your hand, press dough down, flattening it slightly. Cover tightly with plastic wrap and let dough sit at room temperature between 65 and 75 F for 2 hours. (At temperatures above or below this range, dough may rise faster or slower.)
After 2 hours, dough should be close to reaching the edges. Use your fingertips to press dough around until it reaches every corner. Pop any large bubbles you see. Small bubbles are fine to leave and some will pop naturally. Lift up edges of the dough to let any air bubbles escape from underneath.
Preheat oven to 550 F — this is not a misprint, the oven will be very hot! (If oven doesn't reach 550 F, heat to 500 F and bake an extra 3 minutes.) With the back of a spoon, spread pizza sauce evenly across each dough, reaching all the way to the edges. Sprinkle cheese to the edges and add your preferred toppings.
Transfer one or both pans to the oven and bake 12 to 15 minutes, switching racks halfway through, until top is bubbly and bottom is crisp when lifted up with a thin spatula. Remove pizzas from oven and transfer to a cutting board for easy slicing. Serve immediately.
Notes
Toppings shown are pepperoni with basil and Greek feta and Kalamata olive with red onion, olive oil, and roasted garlic. Dough can be stored in the fridge for up to 3 days in a sealed zipper bag before baking, or in the freezer for a month. If baking both pizzas at the same time, you'll need two 10-inch cast-iron skillets or cake pans. Nutritional info is based on a plain cheese pizza.
Per serving: 500 calories, 18 grams fat (4 grams saturated fat), 8 milligrams cholesterol, 1,595 milligrams sodium, 71 grams total carbohydrates, 4 grams fiber, 14 grams protein.