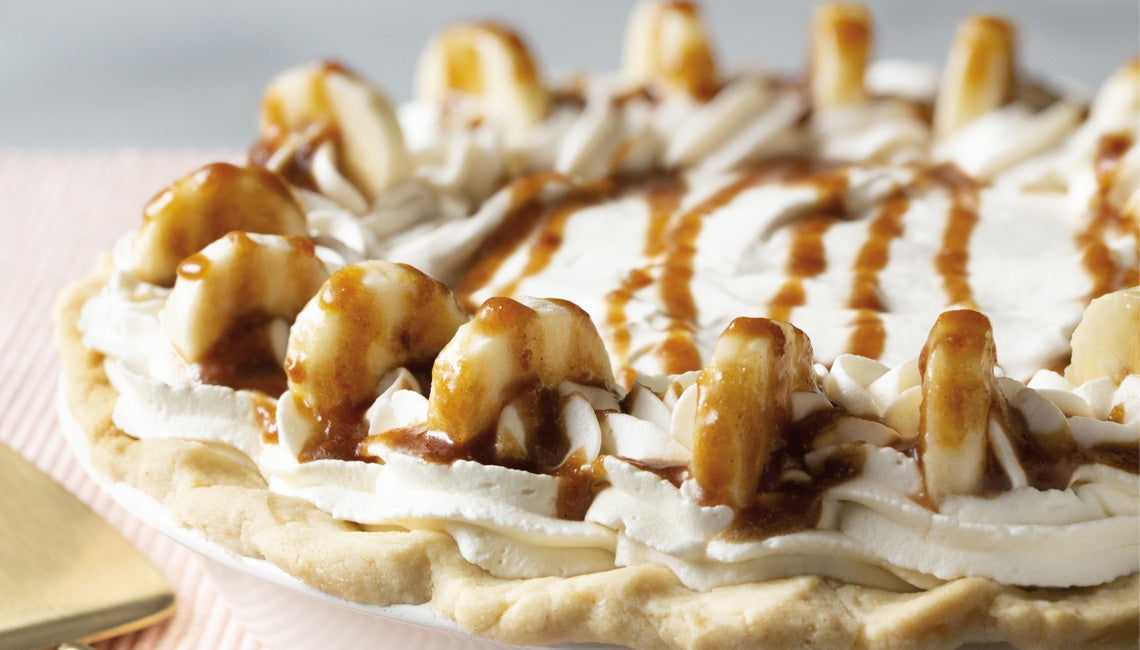 Preparation time
20 minutes
Total time
3 hours, 35 minutes
Ingredients
1
blind-baked or graham cracker pie crust
1 cup
packed dark brown sugar
1⁄2 teaspoon
ground cinnamon
6 tablespoons
unsalted butter (softened and cut into chunks)
4
large bananas (ripe but firm)
1⁄4 cup
dark rum, plus one tablespoon (Myers's or Bacardi)
1 1⁄2 cups
milk (2% or whole milk)
5 1⁄10 ounces
package instant vanilla pudding
1⁄2 teaspoon
gelatin powder
1 1⁄2 cups
heavy whipping cream
Instructions
Have a blind-baked traditional pie crust or a graham cracker crust (which would add more sweetness to the pie) ready to go in a pie pan.
Begin by measuring out the brown sugar, cinnamon, softened butter, and rum. With peel still on, cut 3 bananas in half, then slice in half lengthwise, following the curve of the banana. Set aside. In a large, wide skillet (stainless steel is best), place brown sugar, then cinnamon, then butter. Turn stove to medium-high heat and slowly stir as the sugar and butter begin to melt. Stir constantly to prevent sugar from scorching, about 3 minutes. Carefully peel and add quartered bananas to skillet, curve-side down; cook another 3 to 4 minutes, spooning sauce over the bananas and moving them around a bit. Turn off heat and add 1/4 cup rum. Using a long lighter or kitchen torch, catch the rum on fire, swirling the pan constantly until the flames disappear, about 30 seconds. (If you'd rather not use fire, continue cooking another minute on the stove.) Remove from heat and let cool 10 minutes.
Meanwhile, place vanilla pudding mix in a medium bowl and whisk in milk until smooth. Let rest a few minutes to thicken. Using tongs or a wide spoon, line pie crust with the cooked bananas slice-side down. Stir remaining sauce to break up any sugar. Fill in any holes where you can see the crust with the sauce. Pour half of the remaining sauce in with the pudding, whisking until smooth, then spoon pudding mixture over the bananas in an even layer. Cover pie and refrigerate 3 hours. Transfer remaining sauce to a microwavable container with lid and refrigerate.
When ready to decorate and serve, place cold water in a small microwavable bowl and sprinkle gelatin powder over it. Let sit for 5 minutes, then microwave for 10 to 15 seconds until just melted. Using a stand mixer, beat heavy whipping cream, sugar, and vanilla on medium speed. When it begins to thicken, slowly drizzle in the melted gelatin and continue beating on medium-high until stiff peaks form. If desired, pour in tablespoon of rum and beat to incorporate. Slice remaining banana into ½-inch rounds.
Pull pie out of refrigerator and decorate with whipped cream and banana slices. Warm up remaining bananas foster sauce in microwave for 20 seconds or so and drizzle over top. Refrigerate for up to 3 days.
Notes
Per serving: 551 calories, 19 grams fat (4 grams saturated fat), 35 milligrams cholesterol, 438 milligrams sodium, 96 grams total carbohydrates, 4 grams fiber, 4 grams protein.