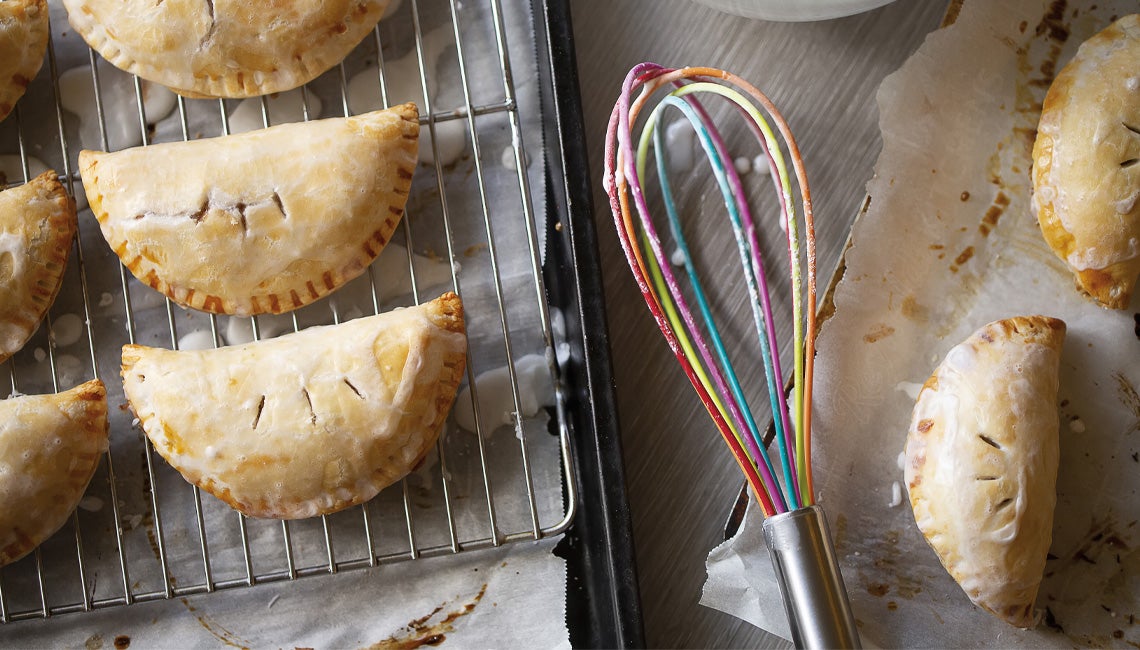 Preparation time
30 minutes
Ingredients
3 cups
tart apples (peeled and diced small)
15 ounces
refrigerated pie crust
Instructions
In a medium saucepan, toss together diced apples and lemon juice. In a small bowl, mix together sugar, cornstarch, cinnamon, nutmeg, and salt. Add sugar mixture to apples and cook over medium heat until it begins to bubble. Turn heat down to low and simmer 2 to 3 minutes as mixture thickens. Remove from heat and let cool completely.
Line two baking sheets with parchment paper. On a lightly floured surface, roll disks of pie dough out flat. With a 4-inch round cookie cutter, cut dough into circles. Mold scraps together and roll out to the same thickness. Cut more circles and repeat until all dough has been cut into circles and transferred to the parchment-lined sheets with a spatula.
In a small bowl, whisk egg yolk with water to create an egg wash. With a small spoon, place a small amount of the apple filling in the center of each dough circle. Lightly brush edges of dough with egg wash, then fold each circle over the filling, creating half-moons. Pinch the edges closed and crimp with a fork. Brush tops with egg wash. Transfer baking sheets to refrigerator for at least 15 minutes.
Preheat oven to 375 F. Remove baking sheets from fridge and cut a few small slits in the top of each hand pie to allow steam to vent. Bake 20 to 25 minutes, or until golden brown, switching racks halfway through. Let cool 10 minutes, then transfer to cooling racks. In a small bowl, whisk together powdered sugar and milk until smooth. Brush tops of pies with glaze and let set a few minutes before transferring to an airtight container. Pies keep for 2 days at room temperature or 4 days in the fridge. Makes approximately 12 hand pies.
Notes
Per serving: 275 calories, 9 grams fat (2 grams saturated fat), 18 milligrams cholesterol, 217 milligrams sodium, 48 grams total carbohydrates, 2 grams fiber, 2 grams protein.