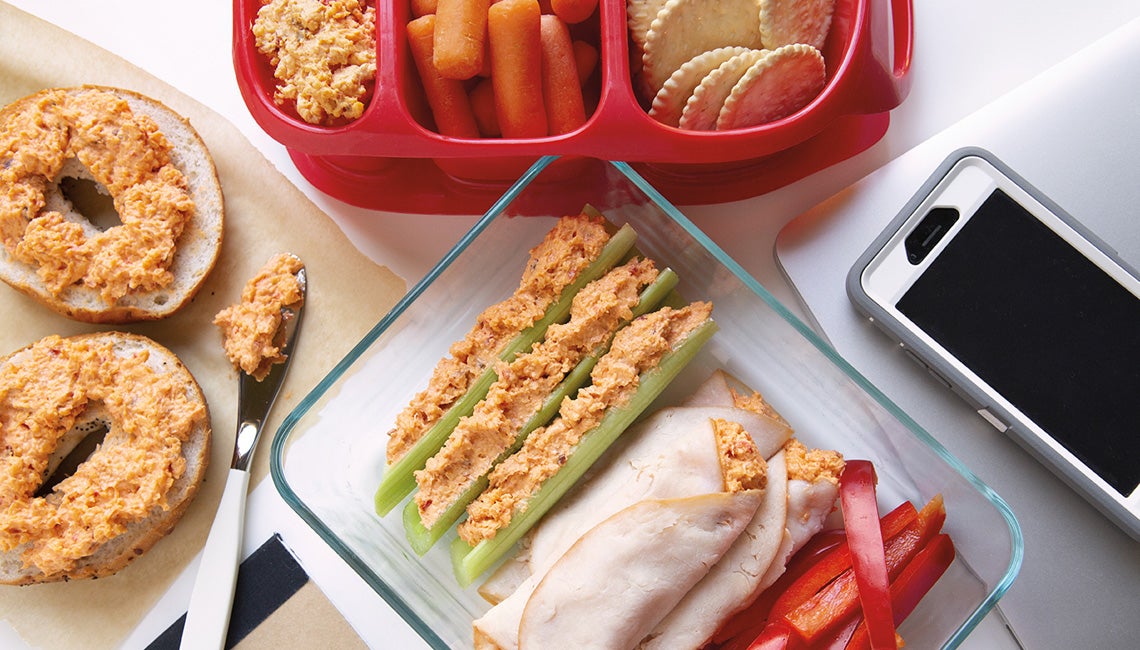 Pimento cheese is the hero spread of many quick lunch meals, making it easy for each person in the household to put their own spin on it or to mix it up throughout the week. Use as a dip for raw vegetables, wrap some up with some sliced turkey, or spread on celery, crackers, and bagels. 
Preparation time
5 minutes
Ingredients
4 ounces
jar diced pimentos
1⁄2 teaspoon
red pepper flakes
2 cups
shredded sharp cheddar cheese
4 ounces
cream cheese (softened)
Instructions
Drain pimento. Consider the spice level you'd like for your pimento cheese. The age of your red pepper flakes will make a big difference in how spicy they are — they become milder over time. If you're sure you want yours to be on the mild side, start with ½ teaspoon. If you're sure you want it spicy, start with 1 teaspoon and adjust to taste. Place all ingredients in a food processor and blend until incorporated, about 15 to 30 seconds. Taste and adjust spices, then pulse a few more times. (Without a food processor, chop the pimentos and shredded cheddar a bit more and mix by hand with a scraper spatula or large spoon.) Store in refrigerator for a week or longer. Eat cold or at room temperature.
Notes
NOTE: Canned or jarred pimento can often be found in the olive section of the grocery store. If not available, roasted red peppers can be substituted and are usually in the Italian aisle.
Per serving: 171 calories, 14 grams fat (7.5 grams saturated fat), 38 milligrams cholesterol, 217 milligrams sodium, 6 grams total carbohydrates, 1 gram fiber, 7 grams protein.