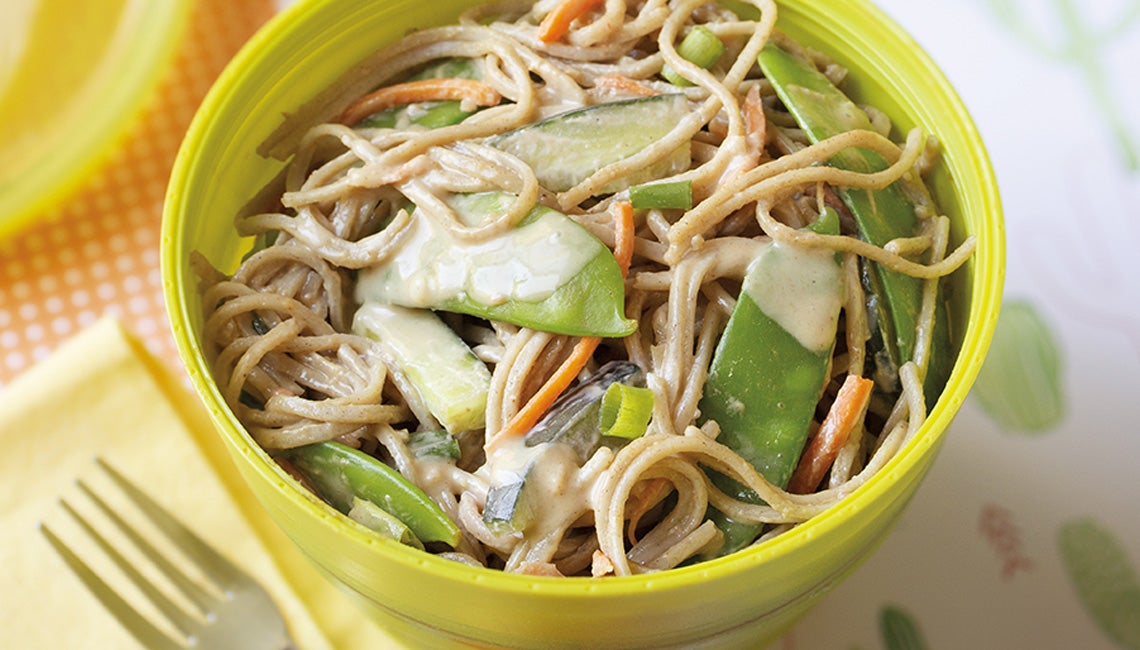 If you're the kind of person who likes to prepare one lunch recipe Sunday evening to eat all week long, this recipe is for you. It's quick to prepare and there's no refrigeration required at your workplace — it's just as good eaten at room temperature.
Preparation time
15 minutes
Ingredients
1
medium cucumber (cut into thin, 1-inch strips)
1⁄2 cup
canned light coconut milk (mixed well)
1⁄4 cup
low-sodium soy sauce
3 teaspoons
Sriracha sauce
coarse mustard for dipping
Instructions
Place cucumber strips in a mesh strainer and heavily sprinkle with salt. Let sit for 20 minutes for the salt to pull some of the excess moisture from the cucumbers. Rinse off salt, shake off water, and place slices on paper towels in an even layer, patting them dry. Place a large pot of water on high heat. Once it comes to a boil, cook noodles according to package's al dente directions. Add snow peas during the last minute of cooking, then drain and rinse both with cold water and transfer to a large mixing bowl. Toss cucumber, carrots, and green onions on top. In a medium bowl, whisk together remaining ingredients to make the sauce. Pour sauce in with noodles and veggies, tossing to coat. Eat cold or at room temperature. Store in the fridge for up to a week.
Notes
Per serving: 521 calories, 18.5 grams fat (5 grams saturated fat), 0 milligrams cholesterol, 725 milligrams sodium, 78 grams     total carbohydrates, 6 grams fiber, 21 grams protein.