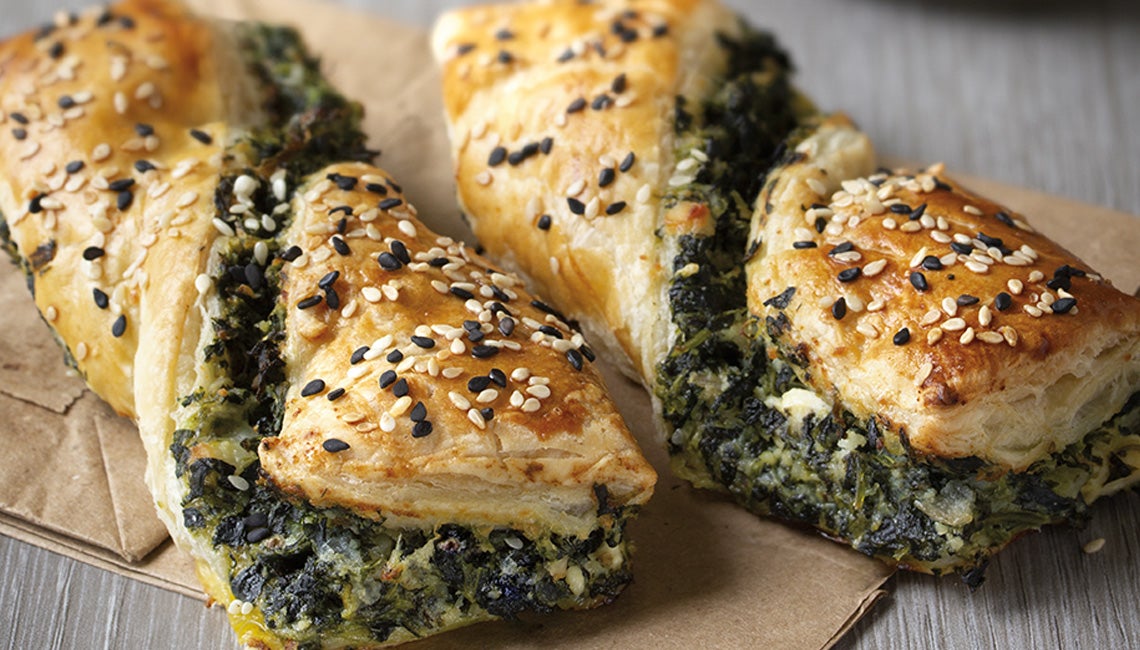 This recipe is inspired by spanakopita, a popular Greek dish traditionally made with flaky phyllo pastry. The twists can be frozen after they've completely cooled. Pull a few out of the freezer in the morning and they'll thaw just in time for lunch. Eat alongside a light salad or a fruit cup for a balanced meal.
Preparation time
20 minutes
Ingredients
1⁄2 teaspoon
dried oregano
1⁄4 teaspoon
ground nutmeg
1⁄4 teaspoon
ground pepper
10 ounces
cooked chopped spinach (squeezed dry)
6 ounces
crumbled feta cheese
17 ounces
puff pastry dough (brought to fridge temperature)
2 tablespoons
sesame seeds (optional)
Instructions
In a medium bowl, whisk together 2 of the eggs, ricotta cheese, and all the spices until smooth. Mix in shallot, garlic, spinach, and feta.
Lay one sheet of puff pastry flat onto parchment paper on top of a baking sheet. Evenly spread spinach/cheese mixture with a ½-inch edge left bare. Lay second puff pastry flat on top of spinach/cheese filling, lining up the edges. Stretch the top edge down to the bottom edge and seal on all 4 sides. Using a sharp knife, cut pastry in half one direction and into 6 slices the opposite direction, ending up with 12 strips.  
With each strip, press one end with your fingers while carefully twisting the other end. When finished with all of the twists, beat remaining egg in a small bowl and brush across top of each pastry and sprinkle on some sesame seeds. Chill in fridge for 15 minutes before baking.
Preheat oven to 400 F. Bake 30 to 35 minutes, switching rack positions halfway through. Pastry should be puffed and golden brown. Let cool. They'll keep for about a week in the fridge or 2 months in the freezer. Eat warmed or at room temperature.
Notes
NOTE: If the ricotta cheese seems to have excess liquid, wrap it in cheesecloth and squeeze. 
Per serving: 585 calories, 40 grams fat (13 grams saturated fat), 82 milligrams cholesterol, 3 grams fiber, 779 milligrams sodium, 43 grams total carbohydrates, 3 grams fiber, 15 grams protein.